It's over. The preseason is over. Exciting!
Even more exciting, tonight's Nucks roster can beat the Flames at home. Sure, not 10-zip, but still a preseason win is a flaming great win over our flaming friends - Hi Marky - from Cowtown.
If you recall our complaints from last season - or was it last game - or both, we complained about the Nucking slow starts. Complaint rectified. For this game.

Barely even a minute into the 1st, the ferocious Nucking forecheckers and your fav (very tall) freelancing D scored the 1st goal of the game. Myers getting a goal early is always a good thing. Unsure why, but it is. Oh, right, it's a rare treat for the tall fans of chaos.
1st period almost ended with the Nucking lead intact. However, they kept the tie, so that was good. Nucks added 2 more goals in the 2nd, with Bluggee dekeing out Marky after a so pretty cross timezone pass from Huggie. The 3rd goal, was the result of some good board work and PDG scoring his 25th 2nd goal of this pretend season.

Even better, the Nucks didn't give up 4 goals in the 3rd. It is technically possible to keep a 2nd period lead until the final buzzer. File this factoid away for future game threads reference.
Nucks finish the premie season with a 2-3-1 record, which may not feel like a winning record, but it's close enough to keep our Nucking false hope going until next week.
THE GOOD
For most of the game, the Nucks played Taco hockey - low event - possibly low entertainment value hockey. But you know what is entertaining, winning low event games rather than losing track meets.

Petey didn't have to carry the team on his newly muscular shoulders. As he and Kuz hadn't fully recovered from an illness that kept them out of practices this week. Pete still got an apple and Kuz had a couple spins - again in the correct spinning zone, not in the defensive zone. So, that's good.

Nucks new assertive (or lucky) PK was perfect in the game. The not-that-new looking Nucking PP was less than perfect on 4 attempts of making Marky even madder. Marky was so PO'd by the end of the 3rd took a whacking penalty on Gnarland. They called it tripping, but we'd call it poor impulse control.

The new D-men looked pretty good as well. Until they didn't.
THE NOT SO GOOD
Late in the 2nd, Soucy got taken down in a creepy pretzel leg lock which looked painful as a Fairy yanking the wrong way on your knee joint. He didn't return for the 3rd period.

As bad as that was, it's worse for the starting D-roster. Breeze is already injured and listed day-to-day after the last premie game.

Why is this so bad? Well... the defense by committee gambit just lost some of the committee members. And worse, since the Nucks are smacked up to the cap, it's now a bigger dilemma of who stays and who gets sent to downtown Abby. Only McWard doesn't need to jump over the waiver pit. Tricky stuff. While I might be a terrible fantasy hockey GM, happy I don't have to be a terrible actual GM.
OBSERVATIONS
Winning in the ROG fixes everything. All our decade long angst and disgust will be a fading, but very painful, memory, if the new RikTok'd Nucks can win almost all their home games. Could happen. Almost.
GAME STATS
VIDEO HIGHLIGHTS

Finally, there's highlights worth watching. Watching the Nucks score more than a single goal and win a game while leading after the 2nd can make the premie season prematurely hopeful.
STEAMED UP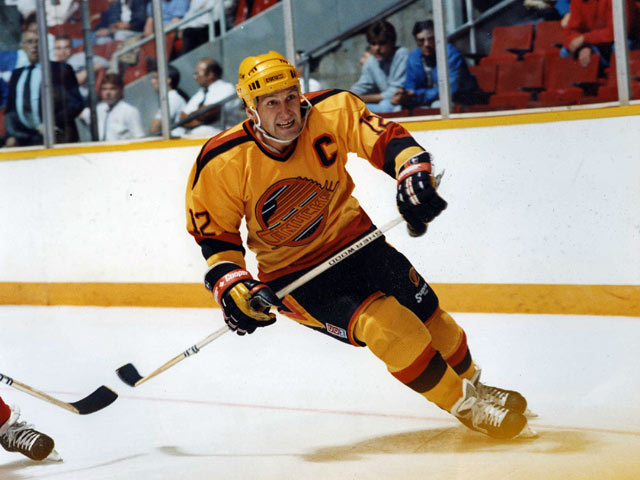 Shout out to Steamer who is finally retiring from active Nucking duty. Over 5 decades Stan Smyl has been part of the Nucks heart and soul - on the ice and in hockey ops. And if you recall, the best interim GM this team has ever had. He will continue as a Canucks Ambassador - hopefully opening the floodgates of relief when the Nucks finally win the Cup. In less than another 5 decades would be good as well.
IT'S DONE.

The premie edition of the 2023 Nucks is complete. They started badly, got a bit better, then worse and finally got better. This, of course, bodes so well for start of the 82 game grind to infinity. And possibly beyond.
Nucks open the season at home - nice change up, thanks NHL racketeers schedulers. It would be even better if they were playing the Yotes or fLames. Instead it's the McOil, all McOil'd up and ready to set new scoring records.
The freshly effective Nucking PK better be super duper effective next Wednesday. As well as NM's first regular season game thread. We can hope we haven't lost our beer bellied, wine chugging good form over the summer.