What do you do with a team like this?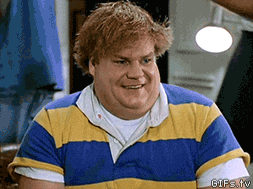 Seriously, what the fuck do you do?
At one point we were all thinking this would be the year for the tank. Management would be able to get rid of a contract or three and the team was terrible in all areas, even under a new coach. And management did get rid a few contracts....not the ones we all hoped for, but there was some return for it.
And then a few funny things started to happen....
The team that was bad...started to be less bad...some would say even good at times. One theory suggested that the new coach was.....coaching? Personal accountability in playing a system that pushes play in the offensive end and then you get your ass back on defense. Filling in gaps....less running around in your own end...getting to shooting lanes faster than the other team. There is a lot to learn and it takes time. But the more time that passes, the more this team does to do the little things.
Now let me say that this team, the way it is right now, will only ever be a good team, not a great team. But compared to the shit show we saw in the first half of the year, this team seems to be having fun again and playing with some swagger again. I love seeing this team win, even when they should lose every game they can to get Bedard.
Of course, I kind of wish they would just win the games in regulation, but that's just me in a fucked up time zone and I need my sleep. Thank goodness for most of you leaping forward this weekend (where I am, we don't). I know get the games an hour earlier. But not tonight's.
Let's talk about this game....
Ottawa sucks!

~every Canadian who pays taxes
I'm sure we agree, unfortunately the team from Ottawa is better than the Canucks this year.
Ottawa is just above .500 thanks to Bettman points. Their stats show me what a .500 team looks like and they still probably won't make the playoffs in the east. They have some young exciting forwards and a couple steady defenseman, plus some experience mixed in...wait a second....this sounds familiar. The Senators have had average goaltending and better special teams this year, but in my biased opinion they have less talent than the Canucks.
SENATORS (33-27-4) at CANUCKS (27-32-5)
10 p.m. ET; CBC, SN, CITY, TVAS2, ESPN+
Senators projected lineup
Brady Tkachuk -- Tim Stützle -- Claude Giroux
Alex DeBrincat -- Shane Pinto -- Drake Batherson
Mathieu Joseph -- Dylan Gambrell -- Patrick Brown
Derick Brassard -- Mark Kastelic -- Austin Watson
Jake Sanderson -- Travis Hamonic
Scratched: Parker Kelly, Julien Gauthier, Erik Brannstrom
Injured: Cam Talbot (lower body), Anton Forsberg (knee), Josh Norris (shoulder)
Canucks projected lineup
Andrei Kuzmenko -- Elias Pettersson -- Anthony Beauvillier
Phillip Di Giuseppe -- J.T. Miller -- Brock Boeser
Dakota Joshua -- Nils Aman -- Conor Garland
Vitali Kravtsov -- Sheldon Dries -- Vasily Podkolzin
Guillaume Brisebois -- Tyler Myers
Christian Wolanin -- Kyle Burroughs
Scratched: Jack Studnicka
Injured: Filip Hronek (upper body), Ethan Bear (face), Oliver Ekman-Larsson (ankle), Travis Dermott (undisclosed), Ilya Mikheyev (torn ACL), Tanner Pearson (hand), Tucker Poolman (undisclosed)
Are we all cheering for a win? Of course! We all know that this doom was predestined to pick between 7-9 in the draft. So we might as well get some wins out of the remainder of the season. And beating any team that has a Tkachuk on it is satisfying.
Game Day Battle Hymn
In honor of our new home and a return from an imposed vacation, I give you Spirit of the West.
It's good to be back. This could be a good home.
Go Canucks Go!